Introdução
UL 3271 XLPE Insulated Bonding Wire and Leads for Internal Wiring of Appliances, Panels, Transformers and Motor Leads. Rated for 125C, 600VAC and 750VDC. This cable is suitable for motor leads, transformers, panel and appliance wiring. Its cables have XLPE connections/leads.
The wire is rated for a maximum temperature of 125 C, which means it can withstand high temperatures without melting or degrading. It can also handle a rated voltage of 600V, which makes it suitable for high voltage applications. The wire's tinned copper conductor and cross-linked polyethylene insulation are flame retardant and provide excellent electrical performance.
UL 3271 XLPE wire also meets MIL-Spec MIL-W-16878/16, which is the military specification for wire used in electronic equipment. This means the wire meets strict military standards for quality and durability, making it a reliable choice for a variety of applications.
XLPE insulated bonding wire and leads are a high quality and versatile choice for internal wiring of appliances, panels, transformers and motor leads. With its high temperature and high voltage ratings, flame resistance and excellent electrical properties, this wire is a reliable and safe choice for many different applications. It is MIL-Spec MIL-W-16878/16 compliant, which also ensures that it meets strict military standards for quality and durability. Whether you're working on appliances, computers, test equipment, or other electronic equipment, wires are an excellent choice for your wiring needs.
Excellent UL 3271 cables for internal wiring of appliances, computers, test equipment, business machines and other office and control equipment. The wire is rated for a maximum temperature of 125 C and a voltage rating of 600V. Its tinned copper conductors and XLPE insulation are flame retardant and have excellent electrical properties. This cable is MIL-Spec MIL-W-16878/16 compliant.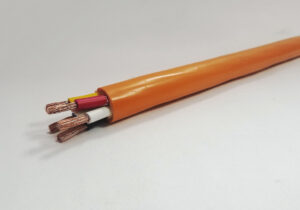 The generalized wire and cable is also referred to as the cable. The cable in the narrow sense refers to the insulated cable. It can be defined as an assembly consisting of the following parts, one or more insulated cores, and their respective possible cladding, overall protective layer and outer protective layer. The cable may also have additional uninsulated conductors. Wire and cable are wire products used to transmit electrical (magnetic) energy, information and realize electromagnetic energy conversion.
The important role of wire and cable in social development, u wire and cable are everywhere, u wire and cable is the blood vessel of the industry, the nerve of the society, and the heart of the motor. u The 21st century will be the world of wire (wire and cable).
UL 3271 Cable classes are classified by their use
Bare wires
Winding wire
Power cables
Communication cables and communication optical cables
Wires and cables for electrical equipment
The basic structure of wire and cable
Conductor: an object that conducts current, and the specifications of wires and cables are represented by the cross-section of the conductor.
Insulation: The outer insulating material is rated according to its withstand voltage.
Similar to UL 3271 Cable common cable types
BV: Indicates single copper core PVC ordinary insulated wire without sheath. It is suitable for wires and cables for power devices, household appliances, instruments and telecommunication equipment with AC voltage of 450/750V and below.
BVR: Indicates polyvinyl chloride insulation, copper core (soft) cloth wire, often referred to as flexible wire. Because the wire is relatively soft, it is often used in the connection of electric drag and motor and the occasion where the wire often moves slightly.
BVV: Indicates copper core PVC insulated PVC round sheathed cable, copper core (hard) cloth wire. Often referred to as sheathed wire, single-core is round, double-core is flat, often used for surface-mounted wires.
BVVB: Indicates copper core PVC insulated PVC flat sheathed cable. It is suitable for applications requiring high mechanical protection and humidity. It can be applied in the open or in the dark.
SYV: Solid polyethylene insulated RF coaxial cable. Applicable to closed-circuit monitoring and cable TV projects.
RG stands for Physically Foamed Polyethylene Insulated Cable, which is commonly used in the transmission of data analog signals in the coaxial optical fiber hybrid network (HFC), as well as video transmission, communication systems and signal control systems.
SYWV: Physically foamed polyethylene insulated cable TV system cable, video (RF) coaxial cable (SYV, SYWV, SYFV) is suitable for closed-circuit monitoring and cable TV projects.
RVV: Indicates copper core PVC insulated PVC sheathed round connection flexible cable. Applicable to building intercom, anti-theft alarm, fire protection, automatic meter reading and other projects.
RVVP: Indicates soft copper core stranded round PVC insulated PVC sheathed flexible wire. Applicable to building intercom, anti-theft alarm, fire protection, automatic meter reading and other projects.
BVVP: Indicates hard copper core flat PVC insulated PVC sheathed, copper mesh shielded wire.
RVS: Indicates copper core PVC stranded connection wire. Commonly used in household appliances, small power tools, instrumentation, control systems, broadcast audio, fire protection, lighting and control lines.
VV (VLV): Indicates copper (aluminum) core PVC insulated PVC sheathed power cable, suitable for laying indoors, tunnels, and trenches, can not withstand the effect of mechanical external force, can be directly buried in the ground .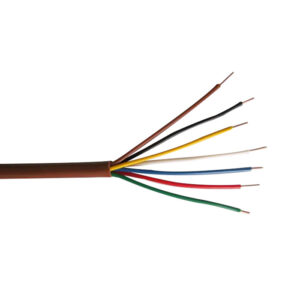 The difference between power cable and ordinary wire in structure
1. The difference between materials
Ordinary wire is a conductive metal wire used to carry current. It has the form of solid, stranded or foil braided. UL 3271 Cable category consists of one or more insulated conductors placed in a sealed jacket. The difference between wires and cables is that wires are generally smaller in size and simpler in structure, but cables are sometimes classified as generalized wires.
2. The difference in use
The bare wire does not cover any insulating layer or protective layer of the wire. In addition to being used as a wire for transmitting electrical energy and information, it can also be used to manufacture components and connecting wires for motors and electrical equipment. Generally, copper, aluminum, copper alloys, and aluminum alloys are used. . Cables are used to transmit, distribute electrical energy or transmit electrical signals. According to their uses, cables can be divided into power cables, communication cables and control cables. New energy cables are UL3271Cable.
3.Structural differences
The main difference between power cables and ordinary wires is that the cables are larger in size and more complex in structure. Conductive core of the cable: Made of highly conductive material. Insulation layer: The insulating material used for the cable should have high insulation resistance, high breakdown electric field strength, and the cable is usually classified according to the insulating material.
Six reasons to choose Anyte Cable UL 3271 Cable
Using 99.99% oxygen-free pure copper, the core is soft, high conductivity, low loss, energy saving and power saving.
Using new high-quality PVC material, the insulating sheath has uniform thickness, good toughness, wear resistance and long service life.
Uniform thickness, no eccentric core, more stable anti-current breakdown, and ensure electricity safety.
Full of rice, core and square, five-star quality, in line with international standards, and passed ISO9001 certification.
Anyte Cableis a source factory for the production of wires and cables, intelligent manufacturing, with a full range of products, short production cycles and sufficient inventory.Integrated marketing and after-sales service, 48-hour response.
Anyte Cable não apenas desenvolve e fabrica cabos padrão de alta qualidade, mas também fornece excelentes soluções de acordo com suas necessidades e aplicações de produtos. Bem-vindo ao seu inquérito a qualquer momento.